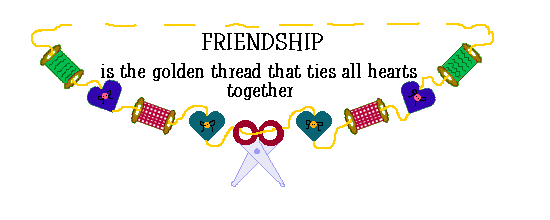 ...and what better way to make new scrappin' friends than through a swap?
Scrapbook swaps are a great way to meet other scrappers across the country, get scrappin' supplies that you can't find where you live, and hey, who doesn't love to get packages in the mail? *G*
Basically, my swaps consist of three (3) snail-mail mailings of scrapbook supplies, as follows:
Of course, this is just a guideline...if your pal really wants one big $40 item, that's great, as long as you agree on it!
In between mailings, you keep in touch with your pal through email, ICQ, and/or the designated swap message board. And, through the entire thing, you remain one big SECRET! :)
Sound like fun? It really is! I'd love to have you in my next swap! E-mail me to sign up!
---
Due to time constraints put on me by my new job, I won't be mailing any further details about the swap...PLEASE, only email me if you are fairly certain you'd like to be in the swap! You still do have a chance to *back out*, but I can't answer emails for further information personally...thanks for understanding! :)
When you send me your email address, you'll be put on my mailing list for the next available swap. I'll then email you with more details and information about 1 1/2 weeks before the swap starts! That gives you plenty of time to decide if you still want to be in it :)
The July swap is officially CLOSED!! Next swap will begin September 1...please don't email me for info till mid-August!
---

HOME * Links * Classifieds * Bulletin Board * Layouts * The Basics