Page Layouts
Page Layouts by Theresa - Thanks for being the first to send layouts for the page! *G*
Page Layouts by Karenjo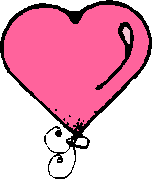 Ideas
I figured I'd also let there be a "listing" of some great, creative ideas for scrapbooking... please, feel free to email me with any ideas you might have!
Ideas from Heather:
Something I did recently on a page was outline the pictures part-way around with "confetti", which I punched using a regular office holepunch, from 2 coordinating printed papers. This worked out great for a "party" page (I used it on a birthday page, for which I wanted a "festive" feel), but it does require tweezers and LOTS of patience... those little dots are tiny! *G*
If you scrap in 12x12 size books, but have trouble finding supplies in your area, remember that you can easily take 8.5x11 border-print pages, and cut them to use areas in your larger pages. And if having the same color background bores you to tears, buy oaktag in large sheets and cut them to size. I've also heard from a friend (thanks, Lady Peaches!) that WalMart sells 12x12 page protectors in their stationery department - do check that out, if you have a WalMart in your area!

HOME * Links * Classifieds * Bulletin Board * The Basics * Swap